Preventive Dental Services

Most people don't connect their mouths to the rest of their bodies, but the truth is, your mouth is the gateway to your body.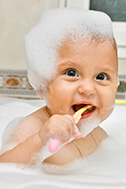 The link between oral infections and other diseases in the body is becoming well documented and accepted within the health care community. Our dental hygienists are committed to providing you with clear information and clinical services to help you maintain your good physical health as well as oral health. As members of our dental health care team, our dental hygienists have a distinctive clinical and educational role to play in promoting good oral health for a lifetime.
Our dental hygienists are not just teeth cleaners – they also assess, plan and implement treatments, and evaluate your individual oral care needs by tracking changes in your gums, it enables the hygienist to assess the health of your oral environment and plan a course of treatment that will help you to prevent disease that may affect your physical well-being.